Monument Health Earns Curvo 2023 Award for Sourcing Performance Excellence
Healthcare System Transforms Strategic Sourcing and Saves $2.8 Million
October 10, 2023 - Evansville, IN – The Monument Health Supply Chain has received the Curvo 2023 Customer Performance Excellence Award for achievements in sourcing performance.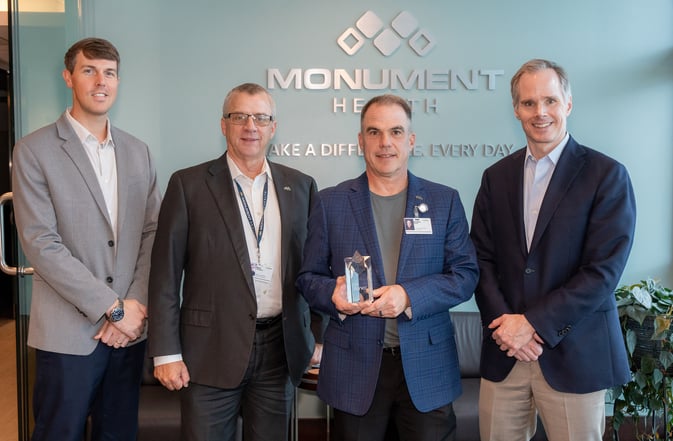 L-R - Paul Pruett, Curvo Customer Success Manager; Monument Health CFO Mark Thompson and Brad Haupt, Vice President of Supply Chain; and Curvo Vice President of Customer Experience, Joe Jackson
The Award is given to healthcare supply chains demonstrating outstanding performance in five categories:
Physician Alignment
Cost Reduction
Supplier Relations
Reduction of Product/Clinical Variation
Technology Utilization
Curvo Vice President of Customer Experience, Joe Jackson, presented the award on October 3 to Brad Haupt, Vice President of Supply Chain; Dr. Deepak Manmohan Goyal, Executive Medical Director and Monument Health CFO, Mark Thompson.
"We are proud of what we've accomplished, because ultimately, the goal is to benefit patients. Through strategic sourcing, we make a real contribution to affordable, quality healthcare. This is part of our journey towards the creation of a 'Clinically Integrated Supply Chain'," said Dr. Goyal.
"The ability to improve on so many aspects of our sourcing processes has transformed our results, and we're honored to be recognized for it," said Mr. Haupt.
Monument Health Reduced Medical Device Costs by $2,800,000
Through sourcing efficiency using the Curvo platform, data and services, Monument Health transformed the supply chain in five areas.
1. Physician Alignment
In 2019, Monument Health wanted to standardize medical devices, but lacked physician support. Haupt and Goyal formed a strategic partnership that is successfully standardizing supply chain products.
2. Cost Reduction
Through the efforts of Haupt and Goyal, Monument Health reduced costs by $2,800,000 across several challenging physician preference item categories over a two-year period.
3. Supplier Relations
The supply chain earned supplier trust by showing they could influence surgeons and move volume. Suppliers take Monument Health RFPs seriously, responding quickly and leading with their best offers.
4. Reduced Product and Clinical Variation
Monument Health reduced clinical variation and increased product standardization via committed contracts in total joints, spine, sports medicine, drug-eluting stents, cardiac resynchronization devices, and peripheral vascular devices.
5. Technology Utilization
Monument Health ranks in the top percentile for sourcing activity managed in the Curvo Platform. The supply chain leveraged the platform to complete an RFP in drug-eluting stents and cardiac resynchronization devices in just 22 days.
"With this award, we honor the hard-working, innovative teams that serve as models for the modern healthcare supply chain," said Curvo Co-Founder and CEO, Andy Perry. "This recognition highlights how clinically aligned teams with the right technology elevate their supply chain and add real value to the care they deliver their communities."
About Monument Health
Headquartered in Rapid City, S.D., Monument Health is a community-based health care system with a mission to make a difference every day. The system offers care in 31 medical specialties and serves 14 communities across western South Dakota and in eastern Wyoming.
About Curvo
Curvo is a healthcare-only technology company focused on software solutions that drive innovation and operational improvements to strengthen financial performance. We are trusted by and work with over 800 hospitals and surgery centers, including some of the largest healthcare systems, medical devices companies and consulting firms.
Media contact:
Carro Ford
carro.ford@curvolabs.com