Home Blog Why People Break Their Bones

Why People Break Their Bones
---
The following article was published in Orthopedic Network News (ONN), Trauma Update, Volume 28, Number 2, April 2017. To sign up for all ONN editions in print and online, plus all archives, click here: ONN Subscription
The most frequent fractures hospitalized in US hospitals in 2014 were for those of the hip, according to data summarized by Orthopedic Network News from the HCUP (Healthcare Cost and Utilization Project of the Agency for Healthcare Research and Quality (AHRQ)). Hip fractures were the most commonly hospitalized fracture in US hospitals for every year since 1996 except for 2010, when fractures of the upper extremities were more prevalent. According to the AHRQ sample, the number of hospitalized fractures increased 2.7% between 2013 and 2014 to 1.90 million, the number of internal fixation procedures was about 572,000 (down 0.1% from 2013), and there were about 38,000 hospitalized external fixation procedures in 2014 (up 5.6% from 2013).
The Nationwide Inpatient Sample (NIS) is available through www.hcupnet.ahrq.gov. The data includes complete all-payer inpatient datasets from over 5,000 hospitals in 44 states in the US with a sample size of over 8,000,000 discharge records. Direct queries of this data can be made from the AHRQ web site or the entire dataset may be purchased from them. It should be stated that AHRQ uses a sampling methodology in order to determine the number of cases in each group.
The glaring omission in this report is the absence of any outpatient data for trauma treatment. The number of patients hospitalized for trauma is limited to fractures of the large bones and elderly. The majority of fractures of small bones are treated in emergency departments, ambulatory surgery centers, urgent care centers, physician offices, or at home. According to the data compiled for the 2014 year, hip fractures accounted for 18.1% of hospitalized fractures. Following those were fractures of the upper extremities, spine and neck, ribs, face, pelvis, tibia/fibula, ankle, skull, femoral shaft, foot and heel. The rank in the number of hospitalized fractures is the same that was reported in last year's newsletter.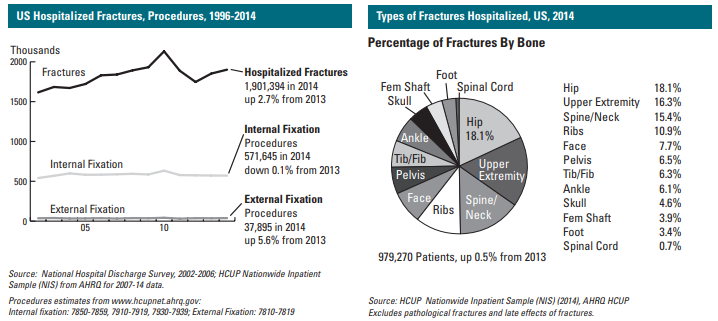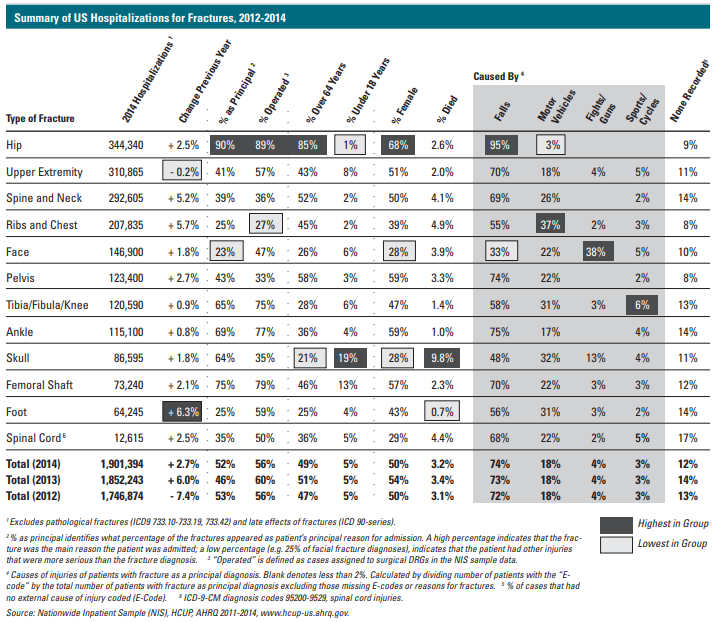 All categories of fractures increased between 2013 and 2014 except for those of the upper extremity. The largest increase was reported for foot/heel fractures, up 6.3%, and the smallest positive increase was for fractures of the ankle which increased 0.8%.
When examining key factors of each bone fracture such as age, gender, treatment protocols, and method of injury, there has been great deal of consistency between the summary reported for last several years.
In 2014, the percentage of all fracture cases operated on was 56% compared to about 60% in 2013. Of all the fractures hospitalized in 2014, 49% were sustained by patients over 64 years old, and 5% were reported for patients under 18 years old. Fifty percent of the patients were female, and the overall death rate for patients hospitalized with fractures was 3.2%. Seventyfour percent of the fractures were caused by falls, 18% by motor vehicle accidents, 4% by fights and/or guns, 3% were reported for sports activities or cycling. Twelve percent of the cases with fractures had no cause reported.
The NIS data displayed some of the significant differences in demographics between the locations of fractures: hip fractures are most likely to be sustained by elderly women who fall; rib and chest fractures are often caused by motor vehicle accidents; facial fractures are more likely to be sustained by men and caused by fights and guns; sports activities were more likely to result in fractures of the tibia/fibula than to other bones; the "youngest" fractures were those of the skull, and "oldest" were those of the hip.
According to NIS, hospitalized closed fractures increased about 2.8% between 2013 and 2014, while there was a 0.5% increase in the number hospitalized open fractures, which are more difficult to treat. In 2014, motor vehicle accidents accounted for 35% of open fractures but only 24% of closed fractures, while falls accounted for 56% of closed fractures, but only 22% of open fractures. Guns and fights were a cause of 20% of open fractures but only 3% of closed fractures. Open fractures are more often found in younger males while closed fractures are generally found in older females.
Pathological Fractures and Avascular Necrosis
Pathological fractures take place when a patient's bone spontaneously breaks without any external cause of injury. This could occur in a severely osteoporotic patient or a patient with a bone tumor. The most frequently occurring pathological fractures reported in the 2014 NIS were vertebral fractures, with over 112,000 reported for the year ending in 2014, followed by those of the femoral neck.
Avascular necrosis (AVN) of the femur is a condition in which the femur has "died" and has no blood vessels providing nourishment to the femoral head. It can be brought on by a variety of external causes, including chemo or radiation therapy, or steroid use. It is painful, often requiring the replacement of joints, including hips, knees, and shoulders. It is not unusual to see a patient who has had 4 or more joints replaced due to avascular necrosis. AVN, if left untreated, may lead to a pathological fracture. The 2014 NIS reported an increase of 1% in the number of AVN diagnoses between 2013 and 2014 to 53,270.
The treatment of hip fractures depends often on whether the fracture was due to a traumatic injury or whether it is a pathological neck fracture. In 2014, 56% of the traumatic femoral neck fractures were treated with a partial hip, 9% were treated with a total hip, and 23% were treated with an internal fixation (ORIF) device. In contrast, the intertrochanteric fractures saw 86% with an internal fixation procedure, and about 3% with either a total or partial hip.
In contrast to the traumatic fractures, 34% of the patients with pathological femoral neck fractures were treated with a total or partial hip in 2014, and 39% were treated with internal fixation devices. Of the patients with a principal diagnosis of avascular necrosis of the femoral neck, 87% received either a total or partial hip or a resurfacing procedure, and 13% received other procedures. Femoral resurfacing may be more prevalent than reported because of inconsistencies in coding these procedures.

Want more Orthopedic News? Sign up for an annual subscription to Orthopedic Network News: Subscribe Today!