Home Blog 6 Things to Know: Data Classification in Clinical Spending

6 Things to Know: Data Classification in Clinical Spending
Data Enrichment & Benchmarking Analytics
---
Blog updated June 2023 -
Healthcare enterprises often include classification as part of good data enrichment practices. One reason: Data classification plays an important role in clinical spend management decisions.
Our original blog here drilled down into the importance of enrichment in enterprise data management. This updated content takes a closer look at the role of data classification in clinical spending.
Data Classification Brings Visibility to Clinical Spending
Supply chain success sinks or swims on enterprise analytics, but analytics are only as good as the data that feeds them. Without consistent, descriptive classification, data is confusing and less useful. Without clean data, a hospital probably lacks an effective enterprise data strategy.
One Healthcare Classification System Stands Out Among Many
Hospitals often have multiple classification systems to accommodate specific functional areas. However, few systems can do the hard work required for useful clinical product data classification.
If health enterprises rely on systems not designed for the specificity of clinical products and physician preference items, the mismatch negatively impacts downstream analysis and decisions.
When it comes to medical devices, a robust classification system is needed to drive tough data work in the clinical supply chain.
Gold Standard for Data Classification in Clinical Spending
The Generic Implant Classification (GICⓒ) system is considered the gold standard for medical devices.
The GIC system is a proven, practical tool for:
Improving data accuracy and consistency
Saving substantial time across the sourcing process
Making data more useful for clinical and supply chain teams
Built with input from surgeons and clinicians, the system calculates constructs at the procedural level. With GIC-based data, analysts can compare orthopedic products and make recommendations with confidence.
6 Things to Know About GIC Data Classification in Clinical Spending
1- Multidimensional Classification with Numerical Codes for Logical Groupings
The multidimensional GIC system is useful for classifying clinical products with accuracy and specificity. Many classification systems are only one- or two-dimensional, not enough for meaningful results. They don't accommodate product specificity very well, but that's what hospitals need to truly analyze medical devices.
With the GIC structure, analysts can be very specific with numerical codes and categorizations. Logical groupings make it easier for supply chain teams to analyze complex clinical products like implants.
2 - Benefits of Organizing Clinical Product Data by Categories
Organizing by standard device categories is one way sourcing analysts make sense of voluminous implant data. A data classification like GIC readily supports a category strategy because users can:
Follow a standardized approach
Compare products accurately
Quickly filter and search lots of data
Align specific products to improve patient outcomes
3 - Seamless Integration with Existing Data Initiatives
One advantage of leveraging the GIC classification in healthcare enterprises is smooth integration with current applications.
GIC is additive and easily joins existing data initiatives with minimal time required from the supply chain team. Smooth integration contributes to faster insights from other analytical tools and technology investments.
4 - Standardized Approach for Better Cross-Functional Collaboration
Any initiative intended to improve the quality and value of patient care requires coordination across the health system.
When initiatives need insights from clinical supply data, it's essential that everyone uses a standardized approach to categorize, assess and manage the information. Supply chain analysts, clinicians and medical device suppliers can collaborate from the same base of data.
5 - GIC Enrichment Improves Master Data Management in Item Master
One important area to consider for GIC use is master data management. Analysts can input GIC enrichment and values for various products into the item master.
With stronger classifications, providers see higher match rates on their item master. Teams can pull reports and generate details that are accurate, consistent, and relevant to the organization.
For example, a surgeon needs information on pedicle screws, or a sourcing team is looking for background on total joints. The supply chain team can quickly share detailed information about products from the item master, so their colleagues can make informed decisions and ultimately improve patient care.
6 - Reduce Errors and Reduce Manual Intervention to Resolve Them
Healthcare supply chain teams can efficiently sort through intimidating amounts of data in a standardized way. The resulting benefits include:
Improving utilization understanding
Increasing savings opportunities
Reducing practice pattern variation
Insights to improve patient outcomes
Improving master data through GIC enrichments cuts down on manual data work in the organization as well. Accurate, reliable GIC-enriched source data reduces the need for constant manual intervention to resolve errors.
How to Adopt the GIC System for Medical Device Classification
Want a deeper understanding of the GIC system? We've got it. Download the GICⓒ white paper for more information about using the gold-standard implant classification system.
Read on to continue your exploration of data enrichment and data management in the healthcare supply chain.
---
Sourcing & Value Analysis: Importance of Enrichment in Data Strategy
Today's post is part three in our series on the importance of data enrichment for large hospitals and hospital systems. In part one, Nic Sagez, Curvo's Chief Technology Officer, addressed data enrichment from the perspective of the hospital CIO. In part two, Stan Mendenhall, editor of Orthopedic Network News, addressed the enrichment needs of service line leaders.
Today, we turn our focus to leaders in supply chain, sourcing, and value analysis roles. Here to help us is Steve Suhrheinrich, Co-Founder and Chief Customer Officer at Curvo. We asked Steve several questions about the importance of data enrichment for supply chain/sourcing/value analysis.
Steve Suhrheinrich brings leadership experience and operations expertise from multiple disciplines to his current role at Curvo. After success as a Naval Officer, hedge fund VP, and enterprise sales leader, Steve co-founded Curvo with Andy Perry in 2012. He leads Curvo's customer success strategy and works hand in hand with supply chain leaders across the country.
Here's what Steve has to say to supply chain, sourcing, and value analysis teams about the importance of data enrichment in healthcare.
Why do data enrichments matter for large hospital systems?
Here's the thing: in large hospital systems, supply chain rises or falls on enterprise data analytics. But no matter what kinds of systems a hospital has in place, its enterprise analytics are only as good as the underlying data. If a hospital doesn't have clean data, it doesn't have an effective enterprise data strategy.
Data enrichments are about more than just amplifying the data (that is, adding in information and making the data more useful). It's also about cleaning up the data: removing duplicates, resolving conflicting data fields, and so forth.
Good data enrichment provides a new level of power in analysis. Supply chain leaders can use the enrichment to track purchase history over time, compare their purchase trends to clinical benchmarks, analyze pricing by parts from various manufacturers, and do better cross-reference comparisons. Data enrichments also allow teams to visualize in a way they couldn't before. And, the better your visuals, the less you have to say to get your point across.
How do large hospital systems enrich data today, without Curvo?
Some hospital systems will undergo manufacturer level analyses. This can work if the manufacturer is focused on one or two segments, but can get complicated when the manufacturer's products span many clinical service lines. I've seen hospitals attempt to assign UNSPC and GUDID codes to the line items. This is an effective method, but is a massively time-consuming and, ultimately, expensive endeavor. Hospitals cannot go deep into procedure-level construct analysis with either of these methods without systematic algorithms and deep clinical expertise.
Another weakness is that hospitals using other methods tend to do one-time static analysis related to a large sourcing project, which doesn't equip service line leaders for ongoing surgeon-level practice pattern conversations. This means the process has to be repeated each time a sourcing project is initiated, which is often a difficult early hurdle to overcome.
How do those methods affect quality of analysis and business as a whole?
My friend Stan Mendenhall often says, "The more you know, the less you pay." I agree, and the inverse is also true: generally, the less you know, the more you pay. When supply chain, sourcing, and value analysis teams are short on knowledge, the organization tends to overpay. But, by arming teams with the insights that come from rich, clean data, they gain significant leverage in negotiations.
There are also cost savings opportunities beyond the cost of the product. For example, I've seen hospitals effectively use our bone cement enrichment to address practice pattern differences across surgeons by highlighting the number of bags used per procedure per surgeon and antibiotic versus non-antibiotic preferences. Presenting this kind of visibility to surgeons and working with them to understand these practice pattern differences dramatically reduced costs in this area without changing price at all.
What problems do hospitals encounter when they use a data set with less powerful data enrichments?
Really, it's the same set of problems that hospitals encounter when they don't use any data enrichment – just slightly softened. Broad, category-based data enrichment like what can be obtained from UNSPSC isn't unhelpful. Knowing that an item is a knee or hip is better than nothing. But when you can't get down to the construct, part, and product-line level, there are missing details – important details teams would use if they had access.
In other words, it's not so much the problems they encounter. It's the questions that they don't know to ask from a world of actionable information that they miss out on. It's the lack of clarity that results from not having a good depth of information. And everyone in supply chain knows that if they go to their surgeons with bad information, they're setting themselves up for failure. Or, they don't attempt the conversation with the surgeon at all. Yet, this happens all the time.
How do our current data enrichment customers talk about the value of Curvo's service?
One of the significant advantages Curvo customers tell us about is the classification methodologies. It allows supply chain teams to compare a deeper level of data, including clinical utilization, sizes, frequency of use, and more.
In a way, it's the kind of service that hospitals don't fully realize they need. But once they have it, it transforms how they do business so significantly that they can't imagine working without it. Curvo customers regularly tell us that without these data enrichments, they can't have quality conversations – they can't really do their business or negotiate without it.
One customer explained that, without Curvo, they couldn't give their surgeons the kind of data that the surgeons needed to effectively understand costs and utilization metrics. Curvo's data enrichment empowered them to close this gap.
Curvo's data as a service additionally helps supply chain professionals look credible to clinicians. No more guesswork and weak data that clinicians can poke holes in. The clinical spend management software provides rich, detailed data that provides credibility.
Can you give an illustration of how hospitals can turn data enrichments into useful visualizations?
Below you'll see a few examples of how hospitals have accomplished this. One hospital wanted to take a closer look at the average quantity of bone cement used per surgeon per cemented knee procedure, separating out the antibiotic bone cement from the non-antibiotic. This is a fairly specific analysis, and it's something that would be challenging to uncover manually. But with Curvo's data enrichments, it looks like this:

They were also able to create visuals showing the average bone cement spend per case by surgeon, with antibiotic and non-antibiotic procedures indicated.

This information was in the hospital's purchase history records, but it was challenging for the hospital to collect and identify the material differences. Curvo provided data enrichment and visualizations, which pulled the information out of the mess of data and made it much easier to act upon.
What are some specific use cases that supply chain, sourcing, and value analysis would have for these data enrichments? If I'm new to the role, what do I do with this information?
There are countless use cases, and I'll describe two of them.
First, practice pattern analysis. Curvo's data enrichments allow supply chain, sourcing, and value analysis teams to compare construct utilization in numerous ways:
By surgeon

By manufacturer

Whether, for example, bone cement with or without antibiotics was used
By comparing this information with both costs and outcomes, supply chain can make informed recommendations to service line leaders and others.
Second, component cost comparison. Orthopedic Network News and other resources can provide national trends over time, such as the average selling price for total hip constructs by construct type (see sample graph below). With one's own hospital system's enriched data in hand, it's simple to identify variances from national trends. These variances then often develop into cost savings opportunities.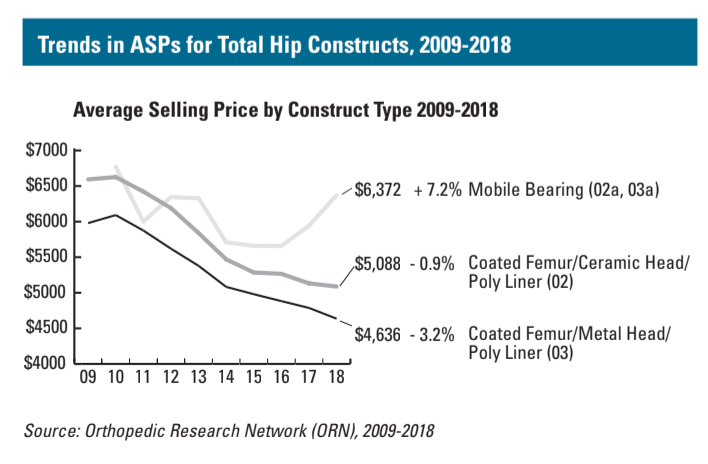 What are the reasons that the supply chain-clinician relationship tends to be a bit adversarial?
While it's true that there can often be tension in this relationship, I wouldn't call it adversarial.
But the hard truth is this: in many cases, the hard work of building relationships, learning about costs and quality, and providing the right incentives hasn't been done.
Clinicians have their own immediate goals to understand, most importantly related to patient outcomes. And this should never be at odds with supply chain goals. The real mission is to get to a place where supply chain and clinicians view themselves as members of the same team, with the same purpose – delivering the best quality and cost outcomes to the patient.
To get there requires relationship-building, education, and the right alignment between administration and clinicians.
Curvo's Data Enrichment Services Can Empower Your Supply Chain, Sourcing, and Value Analysis Teams
If your hospital or health system isn't yet enriching data or is doing it with inadequate tools, there's a lot at stake. Utilizing Curvo's "data as a service" can transform your enterprise analytics into powerful, actionable information you can use to understand costs and execute savings initiatives. If you haven't yet seen what Curvo's data enrichment services can do to transform your enterprise data strategy, let's talk.