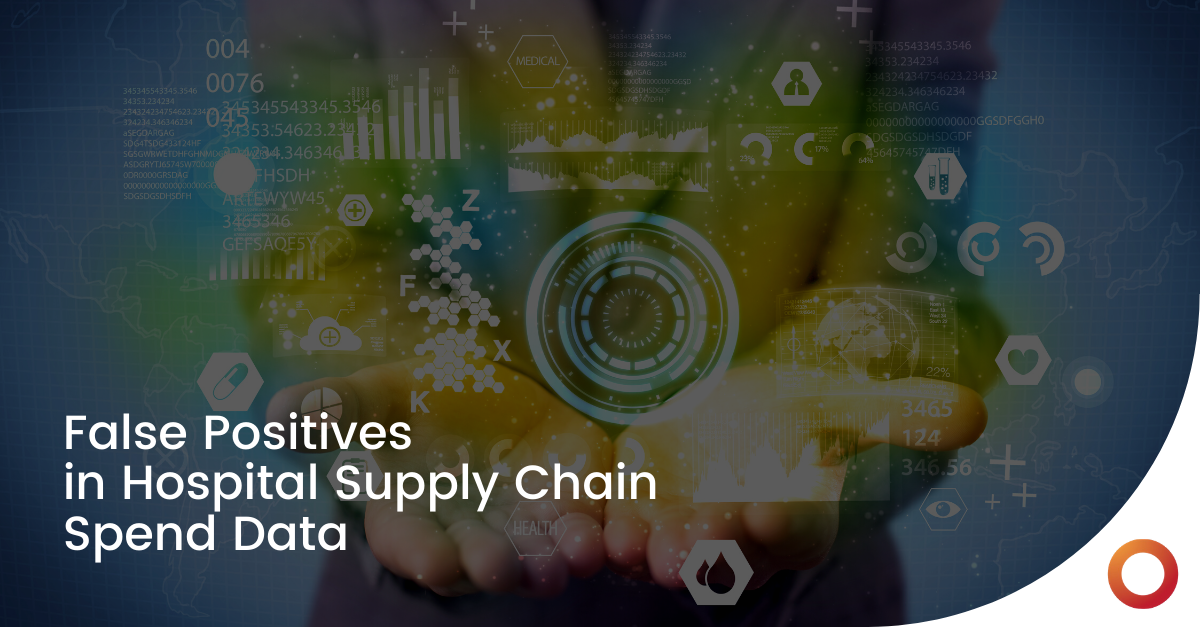 False Positives in Hospital Supply Chain Spend Data
The COVID-19 pandemic has created drastic effects throughout the healthcare industry. As Curvo Labs is focused on the supply chain and spend management, we've noticed some significant changes over the past few months. These changes are temporary, but they are creating ripple effects that are now reflected in the data. In this article, we'll explore one of these ripple effects: false positives in hospital supply chain spend data due to COVID-19.
COVID-19 and the Impact on Hospital Supply Chain
When the outbreak of COVID-19 first started, things went a little haywire for the hospital supply chain. Supply chain disruptions in Asia combined with early U.S. outbreaks in New York City and Seattle quickly led to significant shortages of PPE and other crucial items. The best computer models predicted that those shortages could spread across the country, leading to a massive public health crisis.
Understandably, in supply chain, all of the focus went to procuring PPE and other COVID-related items. As a result, volume shot through the roof for these categories.
At the same time, elective surgeries went offline. Just about overnight, demand and volume took a nosedive for components in elective categories like orthopedics and implants.
Where typically a hospital would see 20 to 30 implant procedures in an average month prior to COVID-19, it saw closer to one per month for March, April, and May. And even that one elective procedure required clearance as a true emergency.
While COVID-19 hasn't run its full course, the initial projected spike has, in most places, either come and gone or never arrived with the expected force. As supply chain teams work to regain some sense of normalcy, they're looking to begin sourcing for the rest of the year, and in some cases, are already looking to 2021.
Skewed 2020 Data Shows False Positives
Unfortunately, data from 2020 is skewed in all sorts of ways. Supply chain teams are trying to draw conclusions to guide savings opportunity initiatives and spend assessments moving forward. But if those teams are using current data from the first half of 2020, they're going to encounter plenty of false positives and other anomalies.
And while it's impossible to predict the future, industry experts don't anticipate electives getting back to regular rates for quite some time. Hospitals are gradually starting to ease up on elective bans, but not all are jumping back in with both feet. Neither are patients, for that matter. That knee may really be bothering her, but she may choose to live with the pain a while longer rather than face a risk (real or perceived) of contracting COVID-19 in the hospital.
Curvo offers powerful tools that can help you and your supply chain team avoid getting tripped up by these spend data anomalies.
Curvo's Preventative Measures to Avoid COVID-19-Related Spend Data Anomalies
One of the ways we've been encouraging our customers to avoid spend data anomalies resulting from COVID-19 is to use custom date ranges to compare and contrast rates, volume, and pricing before the COVID-19 pandemic. March through at least May won't be an accurate representation for just about any healthcare system. Instead of taking a 12-month lookback from right now, some of our customers are looking to data procured from January through December 2019.
Curvo software solutions allow you to customize your lookback dates in a variety of ways. For example, you could look at February 2019 through February 2020, or you could take an 18-month or 24-month lookback to somewhat normalize your results.
The above approach has one challenge: your benchmarks and pricing in 2020 aren't identical to those from 2019. However, simply pulling all data from 2019 could create its own issues for you. Instead, a powerful approach we recommend is to use your 2019 quantities paired with your 2020 benchmark pricing.
Whatever approach makes the most sense for your hospital, Curvo can deliver the customized results you need.
Spend Assessment Considerations
Beyond making sure that you're using good data free from COVID-19 anomalies, there are several other important considerations when looking at spend assessments right now:
1. Examine your committed contracts.
Under committed contracts, you've agreed to certain buying conditions – either to buy a certain amount of product per year or that a particular amount of your market share comes from a given vendor. Your top priority should be to take notice of any committed contracts involving devices or products related to elective procedures. Your yearly volume on these items is already far too low. And it's unlikely that the remainder of 2020 is going to make up the difference.
These contracts are tightly tied to your historical performance, so there isn't a lot of room to move. If you don't renegotiate, you could lose your guaranteed pricing and owe significant amounts at the end of the contract. Many of these contracts require payment to cover any shortfalls. This means that if you only spent $3 million on a $5 million contract, you may well owe $2 million at the end of that contract.
2. Get in contact with these vendors.
Explain that you won't meet contract totals and that you won't pay the penalty given the circumstances. Renegotiate a contract that makes sense for the current environment. Similarly, now is also the time to renegotiate rebates. These, too, are often based on hitting volume targets, which has become highly unlikely. Reach out and seek to renegotiate these volume targets, too.
3. Explore other categories outside of PPI and implants.
Most Curvo customers focus on these categories because of the massive savings opportunities that exist. But as long as electives are offline – or even just slower than normal – it makes good sense to invest your time elsewhere. Consider services, laboratory products, pharmacy – any area that's in higher demand due to COVID-19.
Building These Considerations into Your Work Plan
To build these considerations into your work plan, start with this assumption: everything's on the table. Even that contract or rebate that you just established in January is fair game and worthy of careful scrutiny.
Now is the time to act, too. The stakes are too high to push this off until the next month, quarter, or year. Start with the contracts that are expiring soonest, but be sure to take a look at all of them.
When you renegotiate, realize that the stakes are as high as they've ever been for hospital supply chain. Don't settle for middling percentiles when looking at savings targets. Aim for the top percentiles every single time.
If working this quickly and efficiently seems impossible for your resource-strapped supply chain team, it's time to take a look at the tools you're using. Curvo's suite of powerful solutions brings this level of aggressive action into the realm of possibility.