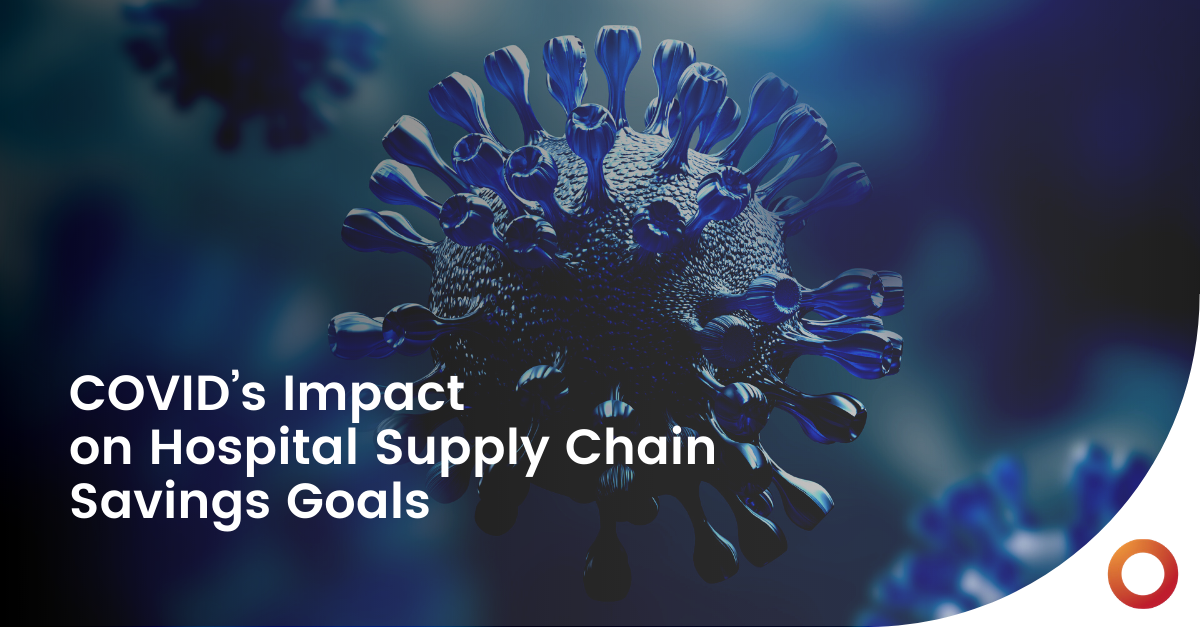 COVID's Impact on Hospital Supply Chain Savings Goals
Business in 2020 was anything but usual for every industry, including hospitals and health systems. Acute care facilities arguably got hit the hardest by unexpected, multifaceted challenges the pandemic introduced. While the lack of PPE and overcrowded hospitals dominated news headlines, it's COVID's budgetary ramifications on savings goals that will continue to plague healthcare providers in the year ahead.
More critically sick patients certainly didn't result in more profits. The American Hospital Association estimates hospitals and health systems have lost more than $50 billion per month on average during this unprecedented health emergency.
Supply chain personnel were forced to suddenly pivot from savings-minded goals to a singular focus on patient and employee safety. They scrambled to secure enough PPE and critical medical supplies required to treat serious cases. Hospital cutbacks, along with limited access to data and clinicians, compounded challenges the supply chain faced.
"With the onset of the pandemic, it became immediately clear our system would have to quickly make adjustments to ensure the best possible response for our patients and team members," says Kevin Connor, Vice President Supply Chain Management at TriHealth. "You go from being supply chain savings-minded to shifting focus to the importance of what it takes for the system to safely care for an influx in COVID patients."
Hospitals and health systems must exponentially increase savings goals in 2021 to make up for last year's record financial loss and account for increased costs related to COVID into the foreseeable future. To do so will require creative problem-solving and prudent delegation.
Main Revenue and Savings Opportunities Plummet as PPE Prices Soar
For months at a time, COVID halted elective surgeries — a major revenue source for health systems. Surgical supplies also rank as one of the most costly supply chain categories for hospitals, so it offers a lot of potential for significant savings.
Even when surgical services returned, volume remained extremely low. Patients deemed most vulnerable to the virus also happen to be the most likely candidates for non-emergency procedures, such as orthopedic implants. The surge of COVID cases around the holidays further tanked profits, which usually get a boost from surgeries during the last three months of the year. That's because patients who've already met their annual deductibles typically schedule planned procedures to maximize their insurance benefits.
Not only did the pandemic completely reset savings goals and cause profits to plummet in 2020, providers continue to pay soaring prices to keep in-demand PPE and sanitizing products stocked. Curvo team members observed an estimated increase in PPE prices of 30 to 50 percent for 2021.
Supply Chain Faces Pressing Need to Innovate with Technology
A deficit in supply chain talent already existed prior to the pandemic. That gap widened last year as some workers left to put their analytic talents to work in less-stressful industries. Many health systems furloughed positions and forced employees not involved in patient care to work remotely or rotate shifts, all of which impacted supply chain's capabilities to source and review data. They could no longer walk the halls to ask questions or gather missing information.
Hospitals now must make the most of a restricted supply chain staff available as they attempt to recoup from massive deficits accumulated during an all-around disruptive year in health care. The pressing need to provide all supply chain members with access to a transparent data analytics system, which they can easily control from anywhere, has become more evident than ever.
By implementing supply chain technology, healthcare systems can more easily uncover and see the impact of savings initiatives on the ready — without the support of a large supply chain team. An integrated platform ensures the supply chain's preparedness to efficiently evaluate and present potential savings, even during an unrelenting and ongoing pandemic.
Proactively Prepare Unbiased Savings Plans Using Automated Data
For better fiscal health, supply chains must aggressively pursue savings by delivering reliable data.
If the CFO calls tomorrow and requests 10 ways to save $10 million, those utilizing an automated data analytics platform can readily produce a list of unbiased savings options.
To achieve the most holistic view of competitive pricing in the industry, the data analysis cannot be limited to GPO data and contracts. The data must come from a broad range of sources and be broken down in a way that's comparable across systems, vendors, and various categories.
The new virtual normal we're all facing presents the ideal opportunity to get innovative with your supply chain sourcing methods to make it more efficient and more effective on every level. Now's the time to embrace virtual work opportunities to improve engagement and relationships, and consider new sourcing technology to collect more data and accurately analyze the results.
Supply chain personnel work hard to always be prepared to present savings. However, with health organizations still reacting to patient overload and exhausted staff, it's more difficult than ever to find time to meet with physicians about cost-savings initiatives. The influx in irregular case data also throws a wrench in normal supply chain analysis and can skew the results. Manually sourcing and analyzing supply data consumes an enormous amount of time and resources, especially during such an unusual healthcare crisis.
The best plan for going forward during these uncertain times? Put in place an adaptable, data-driven clinical spend management platform that can proactively deliver the big picture, as well as drill down into constructs at a moment's notice. An automated platform, based on unbiased data from multiple sources, makes sense of the aggregated information for an already overburdened supply chain team. They're able to draw quick and actionable conclusions, while saving time and reducing their workload. It also makes working remotely easier and more efficient — a critical asset as the pandemic shifted everyone's work norms.
Make Up For Lost Profits and Added Supply Chain Costs
The pandemic put a spotlight on the benefits of adopting an agile sourcing plan. With ever-shifting priorities and clinicians' time at a premium, supply chains must nimbly adapt to figure out the easiest and most accurate way to communicate savings in often-complex categories. Given the staffing shortage and continued demand for COVID-related resources, that's a tall task for any supply chain team right now.
Hitting that moving target — with so many variables in play — often requires partnering with a third-party provider for dedicated expertise and assistance. Once bandwidth for clinicians and leadership frees up a bit, supply chain teams that proactively compiled savings projects will be ready to offer actionable plans backed by real-time data.
Along with an adaptable sourcing plan, other important elements outside of data include project management and automation. These elements are key to supporting already stressed out supply chain personnel who will feel the effects of the pandemic and the vaccine rollout well into 2021, if not the entire year. The supply chain needs resources that help them save time and make their jobs easier while introducing savings critical to the fiscal health of the business.
At Curvo, we leverage our clinical spend management platform to deliver real-time reporting and identify top supply chain savings opportunities. Our team uses those customized data insights in conjunction with clinical and supply chain experts to strategize, manage, and even negotiate savings initiatives for customers who continue to fight the pandemic's effects on the front line while also battling budget woes.
Health systems partnering with Curvo are saving time on clinical spend data analysis, and the process requires less manual manipulation. Additionally, the platform provides a layer of project management automation around vendor communications and RFP processes. Curvo provides aggressive savings strategies without additional stress for already overburdened teams.
It is more important than ever that healthcare systems can access the best data, experts, and partners with an unbiased view of benchmark performance. The supply chain must successfully identify potential savings and accurately project the potential impact of a future health crisis and react to fluctuating market trends. Empowered by the harrowing experience of navigating 2020's health emergency, supply chain holds the key to resourcefully resuscitating savings goals and reviving profitability for hospitals.