Home Blog 3 Price Creep Management Tips For Healthcare Supply Chain

3 Price Creep Management Tips For Healthcare Supply Chain
Finance Insights Best Practices
---
Price creep is a pervasive issue in healthcare. And for those hospitals that are attempting to manage it, price creep can become a significant element of the supply chain workload. While healthcare supply chain teams can't control the market forces that lead to price creep, there are plenty of areas where they can – and should – manage price creep, pushing back where appropriate and saving money for their health system.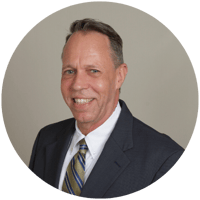 Curvo hosted Ron Cail from UCLA Health for a webinar on this important topic. Ron is a Masters prepared healthcare professional with over 30 years of experience in supply chain, logistics and finance. He currently is the Assistant Director for Procurement & Strategic Sourcing at UCLA Health, where he serves as Director of Strategic Sourcing and leads Sourcing and cost savings initiatives for Peri-Operative Services.
Ron is an experienced authority on healthcare supply chain and his observations from the recent webinar inform many aspects of today's blog post. We hope you'll gain some real insights from the perspectives shared below.
Defining Terms: Price Increases vs. Price Creep
First, let's define these terms. Price increases are a way of life, both in and outside healthcare. Inflation, annual price increases, and contract changes can all result in legitimately higher prices for items. Creep is something different. When we talk about price creep at Curvo, we're talking about price increases that don't have a legitimate explanation. We're also, in a way, talking about the savings opportunities that may exist when your current product has a substantial price increase, but a competing product does not.
Price Creep Has a Significant Impact
Before we delve into Ron's tips for managing price creep, let's establish the scope of the problem. Here at Curvo Labs, we identify somewhere between two and five actionable price creep scenarios every month for our customer hospitals. Of these, roughly half of them result in real savings. And these savings add up: by managing price creep alone, average savings for a Curvo customer hospital is $15,000 per month or $180,000 per year.
One Real-World Example: Hydrogen Peroxide Cleaner
One real-world example that Ron Cail and Curvo found at UCLA Health was in a single product. A particular hydrogen peroxide cleaner fell off the GPO contract. As a result, the price skyrocketed to $80,000 per year, a 192% increase.
It's the sort of thing that a human somewhere in supply chain should have caught, but it was missed. And we all get it – this happens more frequently than we want to admit. In this situation, there were issues with communication failure between the distributor and the manufacturer, but it was UCLA Health that was left footing the bill.
Curvo caught this price creep and notified Ron's team. As a result, he reached out to the distributor to rectify the issue. The results? A $10,000 credit for overspend, and $77,000 in overall savings over the rest of the contract year. All that for peroxide cleaner!
In Ron's own words: "Should we have caught it? Yes. Did we? No. So that's where Curvo comes in. I call Curvo my safety net for items that we don't catch as human beings… If you don't catch them and you don't do something and stay on top of them, they can get out of hand quickly… If Curvo had not noticed that, I can't tell you how many months it would have gone on."
Price Creep Management Tips: Where to Start
If your health system isn't doing much (or any) price creep management, it's tough to know how to get started. Below you'll find a series of steps or tips, ones that work whether you're using Curvo or not. (Of course, they work a lot better if you are!)
Tip 1: Assign a Price Creep Owner
The first step to getting a handle on price creep is giving someone ownership and measuring it consistently. This is one of those situations where if everyone owns it, no one does. Whatever tools you use to identify price creep, even if you're doing it manually, your team needs to know who is in charge of owning price creep management.
Depending on the size of your organization, you may need to assign multiple resources. Organize these by department, category, or vendor: whatever makes the most sense for your system.
Tip 2: Create a Price Creep Resolution Process
The more process-oriented your price creep management, the harder it is for things to fall through the cracks.
Set regular reviews, for starters. Monthly is good; no less than quarterly.
Establish communication plans. These should be both internal and external and should ask the following questions:

When a price creep scenario is identified, who talks to whom?
What's the communication approach they should take?
How many days before your team should contact someone a second time?

Create a tracking and resolution process. This can take the form of a spreadsheet with at least the following fields:

Item
Vendor
Impact
Date of increase
Price before and after
Action(s) taken
Outcome

Report your successes. Whether you're tracking price creep as cost savings or cost avoidance (or a bit of both), take the time to celebrate the wins you make here, however large or small they are. In addition, it's equally important to communicate successful price creep scenario wins to the internal leadership team so they (namely the CFO) are aware of these savings. After all, when the executive team is aware of the savings – and their impact to the organization and its bottom line – they'll invest more resources to address price creep scenarios in the future. It's a win-win for everyone involved.
Tip 3: Automate Price Creep Identification
Manual price creep identification is better than nothing. But it takes time and resources. If this is your current model, it probably feels like fingers in the dike: you're stopping a few increases, but not near enough.
The best solutions involve automation. Find a solution that automates the analysis and identification of price creep. You need a solution that goes beyond benchmarks by teeing up savings and price creep opportunities, making it easy for your team to execute on the price creep data.
How Curvo Automates Price Creep Identification
Curvo's approach to automating price creep identification is unique among similar services. Curvo scans the data for our customers, catching potential price creep scenarios that the team and other software checks have missed. The platform provides curated email notifications and our customer success managers send customer hospitals specific suggested action points. These curated emails lead users to a detailed review of the data for suspected price creep scenarios. The software also provides project management and reporting to round out the price creep management portion of the platform.
Ron describes how supply chain is "drowning in data, but starving for information". He notes that Curvo "does all the heavy lifting and identifies the items – and then it's easy to go to the distributor or manufacturer to sort it out."
Curvo automates price creep management, streamlining the process and empowering your team. If you're ready to learn more about how this revolutionary clinical spend management software can help your team with price creep management, schedule a demo of the Curvo platform today.