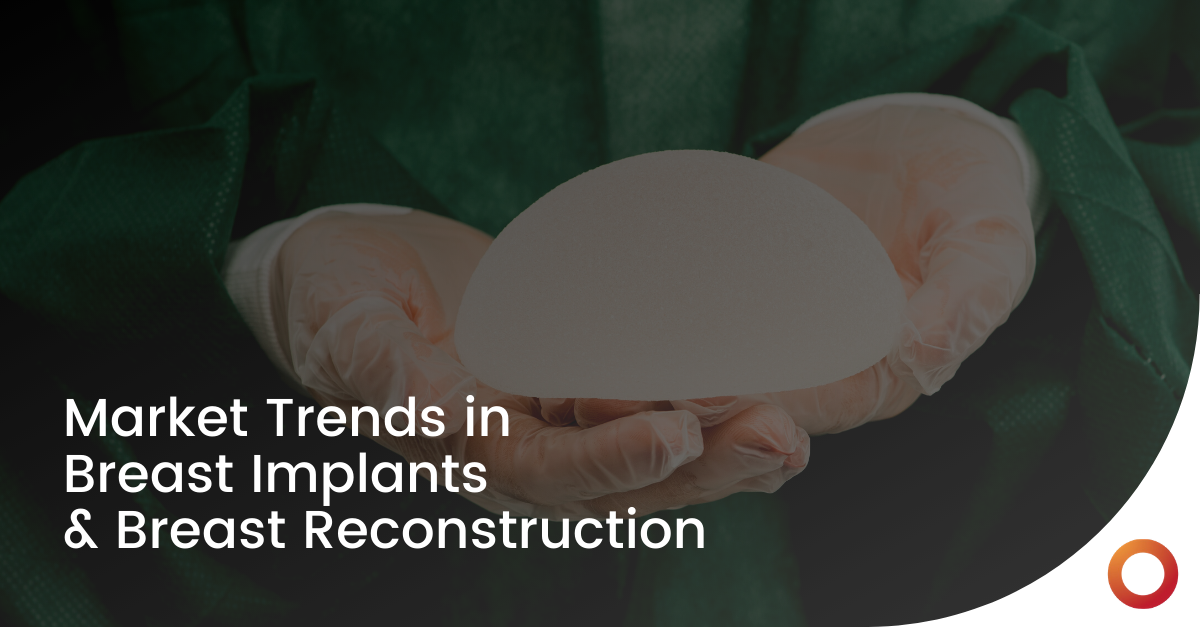 Market Trends in Breast Implants & Breast Reconstruction
When it comes to sourcing components for breast reconstruction procedures, healthcare supply chain professionals need to be aware of the trends. A closer look at the market trends of breast implants uncovers preferences not only in the procedure itself but also in the procedure components. In this article, we explore the history of breast reconstruction surgery, the products involved in this procedure, and trends in breast implants.
History of Breast Reconstruction Surgery
Beginning in the late 1880s and continuing until silicone implants were invented in the 1960s, many types of implants and injections were used to augment breasts. These items include implants made from ivory, glass, ground rubber, sponges, tapes, and ox cartilage. The most common side effect of implants was capsular contracture. This is a complication resulting from scar tissue forming around an implant. The scar tissue contracts around the implant turning it hard and often causing it to become misshapen.
Injections were also used to augment the size and shape of breasts. These injections contained various items like milk, silicone, paraffin made from petroleum and industrial grade silicone. Most of these implants and injections led to serious, debilitating and life-threatening injuries and illnesses. Injections of foreign matter into the breasts caused everything from pain and skin discoloration to respiratory issues, coma and death. The United States outlawed these injections in the 1970s. Although, some women continue to receive injections to various parts of their body from unlicensed and unscrupulous doctors.
The modern form of breast implants were invented in 1963 by The Dow Corning Corporation. Two plastic surgeons named Thomas Cronin and Frank Gerow collaborated with them. These implants were similar to what we know today.
Breast Implants Market Trends
According to the American Society of Plastic Surgeons (ASPS), breast augmentation, generally involving implants, was the most common of the 1.8 million cosmetic surgical procedures performed by plastic surgeons in 2018. There were 313,735 breast augmentations in 2018. And the same year saw 101,657 breast reconstructions. Reconstructions are normally done after a mastectomy. While augmentations are generally not covered by insurance, reconstructions are.
All data sources point to a 3:1 ratio of augmentations to reconstructions.
The US market for breast implants are dominated by 3 companies. Allergan, now AbbVie, Mentor, a Johnson & Johnson company, and Sientra are the only companies selling implants in the US. According to the Curvo Research Network (CRN), Allergan/AbbVie has 59.5% of the market. Mentor/J&J has 29.9%. Sientra has 10.6%. Sientra has the fastest growing market share. They gained 7.6% share in 2019 over 2018.
Products Involved In Breast Reconstruction
Today's implants are divided into categories based on the fill and the surface. Despite being banned for a brief time in the 1990s, silicone is still the most popular fill. 95% of implants are silicone vs 5% saline. Silicone is still preferred because it has a more natural look and feel. New types of silicone and new materials on the exterior of the implants have improved safety and lessened the occurrence of capsular contracture.
The surface of the implant is the second way implants are divided. Modern implants are either textured or smooth. Textured surfaces are a modern advance in fighting capsular contracture. It's believed scar tissue can't adhere as easily to a textured surface. In July 2019, Allergan recalled their textured implants due to an FDA request. Studies linked the Allergan textured implants to occurrences of anaplastic large-cell lymphoma (ALCL), a rare type of cancer. 481 cases were linked to the Allergan implants. While Allergan no longer has a textured implant available, its main US competitors, Mentor and Sientra, do.
Breast implants are not a once and done procedure. For reconstruction, there is a two-step surgical procedure. The first step is the implanting of expanders. Expanders slowly stretch the skin. This is needed to allow enough room for the implants to be implanted in a 2nd surgery.
The lifespan of an implant is 10 to 20 years. But studies by the FDA show that 20% of women have their implants either removed or replaced within 8 to 10 years. A small percentage of women also require additional surgeries due to complications and infection. There is anecdotal evidence that women who are happy with their surgeon and the results of their implants will return to the surgeon for additional aesthetic procedures.
The Future of Breast Implants
Breast implant design has improved the overall safety of augmentation and reconstruction. Aesthetic procedures are increasing in popularity. In 2018, Americans spent over $16.5 billion dollars on cosmetic surgical procedures. Nearly 18% of those procedures were breast augmentations. As we continue into the Covid-19 era, tapping into this trend can be part of a plan to recoup lost revenues and secure a more profitable future.
For a more detailed look at the procedure and its components, download this spotlight on breast reconstruction. It includes data and illustrations tailored to healthcare supply chain teams.
To stay updated on market trends on devices and implants, subscribe to the Orthopedic Network News quarterly newsletter.